*Perimeter Program – the key to keeping the interior of your home pest free is a treatment around the exterior perimeter of your home. A barrier will be applied around windows, doors, eaves, around base of home and patio areas. Any problem inside the home will be treated with baits at no extra cost. This is a bi-monthly service plan
*Attic Dusting – this service should be applied annually to maintain interior protection. We use a non-toxic dust that protects the attic barrier for one year.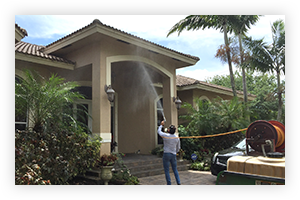 Scenic Pest Control Insurance is a family owned and operated company with over 35 years of experience. We serve our customers with honesty, reliability and reasonable prices. Whether you are looking for a general household pest control program for your residence, or a full commercial package, Scenic Pest Control can tailor a pest control service for your needs.
Call us today to schedule an initial inspection and to get a quote for your pest control solution. Call 954-625-6549